S.A. Trampoline, manufacture, supply and repair different size table and pit model trampolines in South Africa.
We also supply safety pads and weather covers as an optional extra! Spare parts and trampoline accessories are available for many makes of trampolines.
Please note that we have relocated. Click here for our new address.
| | |
| --- | --- |
| SA Trampoline Pinetown KZN: | SA Trampoline Rosslyn Pretoria: |
While our factory is based in Gauteng, we offer the finest range of trampolines for sale in Durban, KZN! Our range is extensive and we are able to offer you both the portable and installed variety to choose from. Of course we also handle repairs and maintenance to existing units and are always available to provide safety advice and carry out checks.
At SA Trampoline we have a hands-on approach and focus our attention on providing our clients with a cost-effective solution along with absolute value for money. When purchasing from us, you can expect for the unit to last. Take the time to browse through our range and the options available to you – you will simply not be disappointed.
For a Full Range of Trampoline Products and Services Visit our Pinetown Branch:
35 Woodside avenue,
Cowies Hill,
Pinetown
Contact Hannes for More info:
Tel: 0832357074
Email: hannes@www.satrampoline.co.za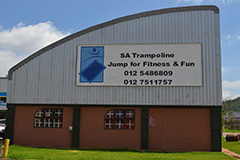 More About SA Trampoline:
Durban Trampolines - Pinetown, KZN
Die Blou Bulle en SA Trampoline
The Trampoline: All You Need To Know
Trampoline for Kids: Why You Should Invest in a Trampoline for Your Kids Today
Jump for Fitness and Fun: Trampoline activities, or rebounding exercises, has the following benefits
Contact Us:
Name:
Tel No:
E-Mail:
Select:


Please enter the text you see above: